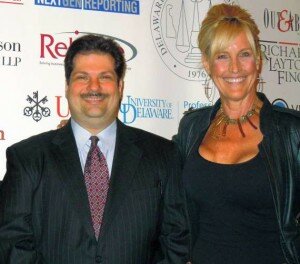 Anthony Iannini is one lucky guy!
He recently teamed up with Erin Brockovich to serve as keynote speakers for the Delaware Paralegal Association's 35th Anniversary Gala in Wilmington, Del.
I'd accept that invitation to deliver a keynote in a heartbeat! While I haven't met Erin in person, I did have the opportunity to speak with her when Lynne DeVenny and I interviewed her on our monthly Paralegal Voice podcast produced by Legal Talk Network. She was delightful! (You can access that interview here…it's a free resource for you.)
The duo was invited to speak at the event because of the contributions each has made to the legal community.
"It was an honor just to meet Ms. Brockovich," Iannini said. "Her environmental work is legendary and to be able to share a stage with one of the most iconic legal figures of our time is something I will never forget. Her knowledge of environmental issues that impact our world today is incomparable."
Brockovich, portrayed by Julia Roberts in the Oscar-winning movie that bears her name, became famous when her dogged persistence on behalf of the residents of Hinckley, Calif., resulted in one of the largest medical lawsuit settlements in history.
Iannini, a 1987 graduate of Belleville High School, and Connecticut resident, served as president of the Delaware Paralegal Association's Board of Directors from 2009 to 2011. He is also an adjunct professor at Widener University School of Law's Legal Education Institute, where he teaches civil litigation and legal research and writing.
================================
Source: NorthJersey.com